.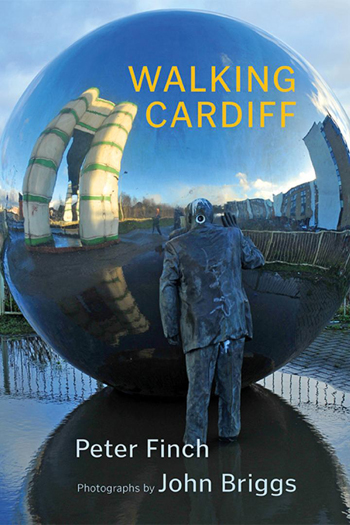 Walking Cardiff John Briggs and Peter Finch
Exhibition of selected photographs due to open March 1st 2020
Waterloo Tea House, Wellfield Road, Cardiff.

Watch this space for further details
Saturday February 15th, 2020 12 noon
The Machineries of Joy
reading and launch for Peter Finch's first new poetry
collection in a decade. Seren Cardiff Poetry Festival.
Temple of Peace, Cardiff.

further details and tickets
Thursday 23rd April, 2020
A Counter Culture Poetry Walk around Cardiff City Centre
for the Cardiff Arts Society
Details to follow


Thursday 18th June, 2020 6.30 pm
A Walk into the Republic of Roath
An easy walk through the history of one of the capital's oldest districts - the Republic of Roath - we start at Death junction - that place where five roads meet at the end of City Road - and after a hour or so's ramble along back streets, parks and alleyways taking in former brickworks, cinemas, castles, holy wells and now filled-in valleys we surface at the ancient Roath centre - the green, the blacksmiths, the country church, the manor house, the river bend, the hill fort. Expect a few poems along the way. No inclines and a certainty that we'll do this whatever the weather. Plenty of opportunity at walk's end for a beer or a coffee and loads of buses back to City Centre.